Berlin, July 22, 2019 - Berlin-based PropTech Sensorberg has won FlexOffice, an operator of flexible office space from Switzerland, as a new customer. Members will be able to access the buildings, common areas or individual offices around the clock via smartphone at all the locations of the expanding startup. Sensorberg provides the necessary hardware and the software for door opening and digital management of access authorizations. The initial focus will be put on the two FlexOffice locations of the former Fraumünsterpost in Zurich and Murifeld in Bern. Both the Zurich location at Fraumünsterstrasse 16 with an area of just under 1,100 m² and the Bern location at Weltpoststrasse 5 with around 4,000 m² were put into operation by the company at the beginning of April. FlexOffice​ ​ ​ ​​
FlexOffice aims at small and medium-sized companies and start-ups, but is also open for large companies. By means of digital access control, the operator of flexible office space wants to increase user comfort at all locations and at the same time make access management more efficient. Michael von Roeder, CEO of Sensorberg, says: "With the help of our technology, FlexOffice creates a distinguishing feature from other providers and makes the day-to-day work of its tenants easier. Access authorizations can be managed easily and across locations via our platform. This saves time, which the local community managers can use to improve the service on the premises at the same time." ​ ​ ​ ​
"We are happy to have Sensorberg as a partner whose solution fully meets our flexibility requirements. And our customers love the ease of use. In addition, we see a lot of potential in the future cooperation in the digitalization of our XO locations," says Andreas Brandl, Managing Partner at FlexOffice. 
The authentication of the users and the subsequent door opening are carried out via an app developed by Sensorberg. The Berlin-based PropTech has installed special contact and connection points, so-called access hubs, at the buildings' entrance doors and at all doors in the rental area. The smartphone sends a signal to these access hubs via Bluetooth to open the door. The system then verifies the authorization and issues the command for the opening. In addition to digitally controlled access, other features - such as heating and air regulation - can be integrated into the Sensorberg solution at any time. The usage data is collected in the background on an intelligent platform, which the operator can use to control the utilization of the space in a targeted manner and use service providers and cleaning companies more effectively. ​ ​ 
After Zurich and Bern Sensorberg will then digitize two further FlexOffice locations in Geneva and Basel. "We are pleased to be able to grow with FlexOffice and together develop new use cases," says Michael von Roeder.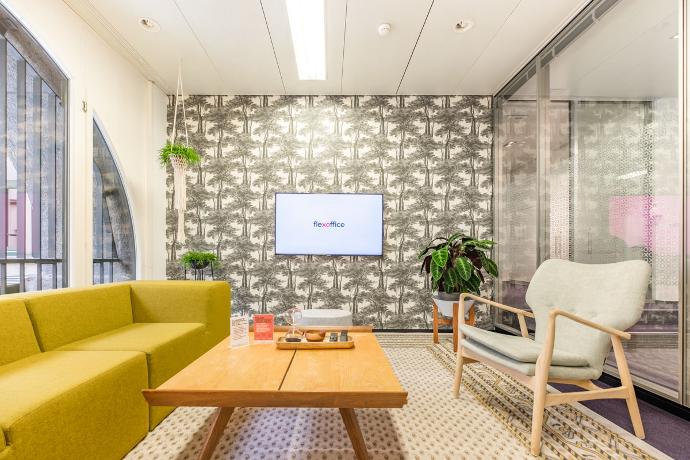 About SENSORBERG GmbH
Sensorberg GmbH, based in Berlin, develops hardware and software for the digitalization and automation of buildings. The proptech specializes in solutions for co-working spaces, commercial and residential real estate, and self-storage. Sensorberg installs access control systems and equips buildings with a comprehensive digital infrastructure, enabling simple and transparent control of all building processes via smartphone or tablet. Use cases include room booking, temperature control, the opening of lockers, visitor management, etc. The intelligent technology can be connected to all existing management systems. By evaluating the collected data, operators or owners can manage their buildings more effectively and efficiently. When implementing individually tailored building solutions, Sensorberg is able to fuse multiple manufacturers and access systems by connecting them to the open IoT platform. The proptech currently employs 30 people. ​​ ​​ ​ ​ ​ ​ www.sensorberg.com 
About FlexOffice
FlexOffice ​ ​is an operator of flexible office space from Switzerland. Founded in 2018, the young company has five locations in Zurich, Bern, Basel and Geneva and more are planned. The heterogeneous tasks that the modern working world poses require a high degree of flexibility. FlexOffice has therefore developed a model that offers companies maximum freedom through flexible rental conditions and modular services. FlexOffice offers a new world of serviced workspaces and custom managed offices with over 1,000 workstations and space for over 1,500 employees in Switzerland. No matter if five, 20 or 150 employees - FlexOffice has the ideal solution for modern companies. ​​ www.flexoffice.swiss 
Press contact at Sensorberg
Karoline Pantera
PR/Marketing Manager
Sensorberg GmbH
℅ Unicorn.Berlin WEM GmbH
Markgrafenstraße 63
10969 Berlin
Telefon: +49-30-2758-3021
Mail: presse@sensorberg.com
Jürgen Herres / Christina Michaelis
Managing Partner / Associate Director
Feldhoff & Cie. GmbH
Eschersheimer Landstraße 55
60322 Frankfurt am Main
Telefon: +49-69-2648677-240 / -233
Mobil: +49-176-60738682 / +49-176-47825539
Mail: jh@feldhoff-cie.de / cm@feldhoff-cie.de