Berlin, 28. Mai 2019 – Das PropTech Sensorberg stattet das kürzlich eröffnete neue Experimentierlabor mit Coworking-Space "B-Part Am Gleisdreieck" in Berlin mit seiner Smart-Office-Technologie aus. Dadurch können die Nutzer das Gebäude und einzelne Räume künftig via Smartphone betreten. Der Bau ist Teil des geplanten neuen Stadtquartiers "Urbane Mitte Am Gleisdreieck" im Bezirk Kreuzberg, das in den kommenden Jahren von der COPRO Projektentwicklung GmbH entwickelt wird und auf einem 31.500 m2 großen Grundstück New-Work-Konzepte, Gastronomie, Einzelhandel, Hotels und Kultur vereinen soll. Das Experimentierlabor "B-Part Am Gleisdreieck" wurde im März 2019 fertiggestellt und in Betrieb genommen. Der integrierte Coworking-Space, der 100 moderne Arbeitsplätze umfasst und vom Berliner Betreiber ​ ​
Michael von Roeder, CEO of Sensorberg, says: "By digitizing access control, we are helping to create conditions for the future jobs. Digitized access to buildings is just one of many ways to optimize user comfort in office and residential buildings. In addition to resource-saving, it will in future be one of the decisive factors in the design of buildings. The added value for the user will thus also become the benchmark for the digitalization of buildings." ​​
Digital door opening is made possible by the installation of special contact and connection points - so-called access hubs - on the surface. They are controlled via an app developed by Sensorberg and are connected to each other in the background via an intelligent platform. Additional features can be integrated into this platform at any time, such as the opening of lockers or the regulation of light and room temperature. On the one hand, this increases user comfort; on the other hand, the operator can reduce processing times and thus save operating costs by digitizing access. ​ 

The 1,000 m2 multifunctional building "B-Part Am Gleisdreieck" is expected to be in operation for four to five years. It was constructed with wood, has a high degree of room flexibility and is characterized by its environmentally conscious design. After use on the "Urbane Mitte" site, the building can easily be dismantled and rebuilt elsewhere due to its design. In addition to the coworking space, there are a café, art studios and a gallery in the building. Starting in summer, various sports facilities will also be integrated. The B-Part Am Gleisdreieck is optimally connected to public transport. The subway station Gleisdreieck is within walking distance. Potsdamer Platz is only two stops away..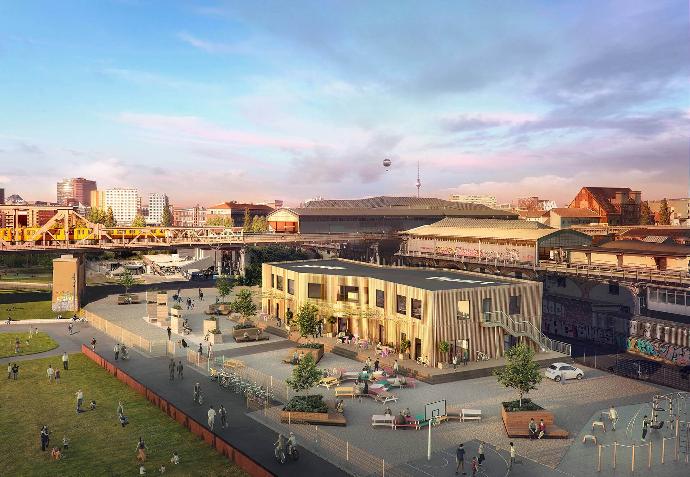 About SENSORBERG GmbH
Sensorberg GmbH based in Berlin, develops hardware and software for the digitalization and automation of buildings. The proptech specializes in solutions for co-working spaces, commercial and residential real estate, and self-storage. Sensorberg installs access control systems and equips buildings with a comprehensive digital infrastructure, enabling simple and transparent control of all building processes via smartphone or tablet. Use cases include room booking, temperature control, the opening of lockers, visitor management, etc. The intelligent technology can be connected to all existing management systems. By evaluating the collected data, operators or owners can manage their buildings more effectively and efficiently. When implementing individually tailored building solutions, Sensorberg is able to fuse multiple manufacturers and access systems by connecting them to the open IoT platform. The proptech currently employs 30 people. ​​ https://sensorberg.com/en
About COPRO
COPRO is an independent real estate developer and investor with a focus on projects in Berlin and Stuttgart. Founded 25 years ago by Marc F. Kimmich in Berlin and still owner-managed today, COPRO specialises in the development of complex plots of land and the refurbishment of extraordinary residential, office and commercial properties, many of which are listed buildings. With core authority within the ranges project development, Sales & services, letting as well as administration COPRO cares for its real estates over their entire life cycle. The real estate portfolio managed by COPRO includes the neoclassical Kaiserbau on Stuttgart's Marienplatz built in 1911, Geisberg Berlin, a residential project with a novel community concept in a listed post office in Berlin Schöneberg and the transformation of a historic Wilhelminian architecture into the 21st century GLINT in Berlin-Mitte. In addition, the company is developing an unused 4.3-hectare area on the Urbanen Mitte Am Gleisdreieck with a planned floor area of approx. 119,000 sqm near Potsdamer Platz into a lively and future-oriented urban quarter. As an attentive developer, COPRO always includes the entire spectrum of a property and for 25 years has been pursuing the goal of creating livable spaces for individual requirements through maximum quality, innovation, service and sustainability. Numerous projects around the company and project locations, which serve the common good, have been an integral part of the corporate culture since the company was founded and reflect social commitment. ​ ​ ​ ​
Press contact at Sensorberg 
Karoline Pantera
PR/Marketing Manager
Sensorberg GmbH
Markgrafenstrasse 63 
10969 Berlin
Telefon: +49-30-62 20 80 75
Mail: presse@sensorberg.com
Jürgen Herres / Christina Michaelis
Managing Partner / Associate Director
Feldhoff & Cie. GmbH
Eschersheimer Landstraße 55
60322 Frankfurt am Main
Telefon: +49-69-2648677-240 / -233
Mobil: +49-176-60738682 / +49-176-47825539
Mail: jh@feldhoff-cie.de / cm@feldhoff-cie.de
Press contact at COPRO
Jan Düring
Serviceplan Public Relations & Content
Haus der Kommunikation
Brienner Straße 45 a–d
80333 München
Telefon: +49-892050-4196
Fax: +49-89-2050-604196
Mail: j.duering@serviceplan.com